Jingchuan as LED mobile media customized solutions provider, to provide customers with hundreds of different types of LED advertising car design, involving all types of chassis carriers, such as trucks, trailers, electric cars, etc .; all kinds Type of mechanical structure design, electrical structure design; different types of multimedia terminals and control, such as remote touch, multimedia interaction, 3D holographic projection; all kinds of size requirements, resolution requirements of the LED display, and other digital media types; Customized customer needs to provide professional solutions.
The rapid economic development in modern society, the rapid product let promotion also emerge in endlessly.At that time only a novel special propaganda to make your product standout from the crowd.And taizhou JingChuan electronic technology co., LTD make LED mobile advertising vehicle is introduced in order to meet the needs of manufacturers.
Style introduce:
JingChuan auto exhibition truck to create a type of structure to realize the truck big shops, big stage, automatic open and pick up the LED big background, and other functions, is for the customer commodity display, theatrical performances, flow roadshow, brand promotion, site promotion, outdoor activities and professional research and development of a kind of automatic type display vehicle.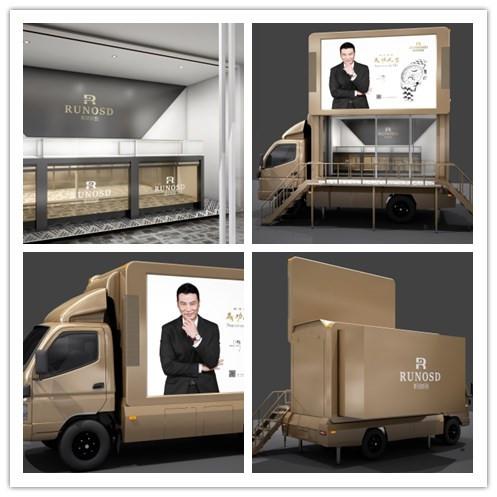 ➢Full Outline Dimension:5995x2190x3300mm;
➢Outdoor Full-Color HD P5 LED Screen;
➢Automatic extension platform,with enlarge area for exhibition and business negotiation;
➢With automatic hydraulic stage for entertainment performance;
➢10-hour continuous running as silently powered by 8 sets of 48V50AH Lithium batteries with rechargeable front bumper;
➢Hydraulic lifting system with lifting height up to 1700 cm;
➢Sliding glass doors and air conditioner available behind the lifting LED screen;
➢Easy to move to places at any time,no need of any installation and dis-assembly;